Project Fact sheet
This form can be used as a fact sheet guide about RMF projects and activities. It is important to consider carefully the information to be shared. Information included on this form should be comprehensive.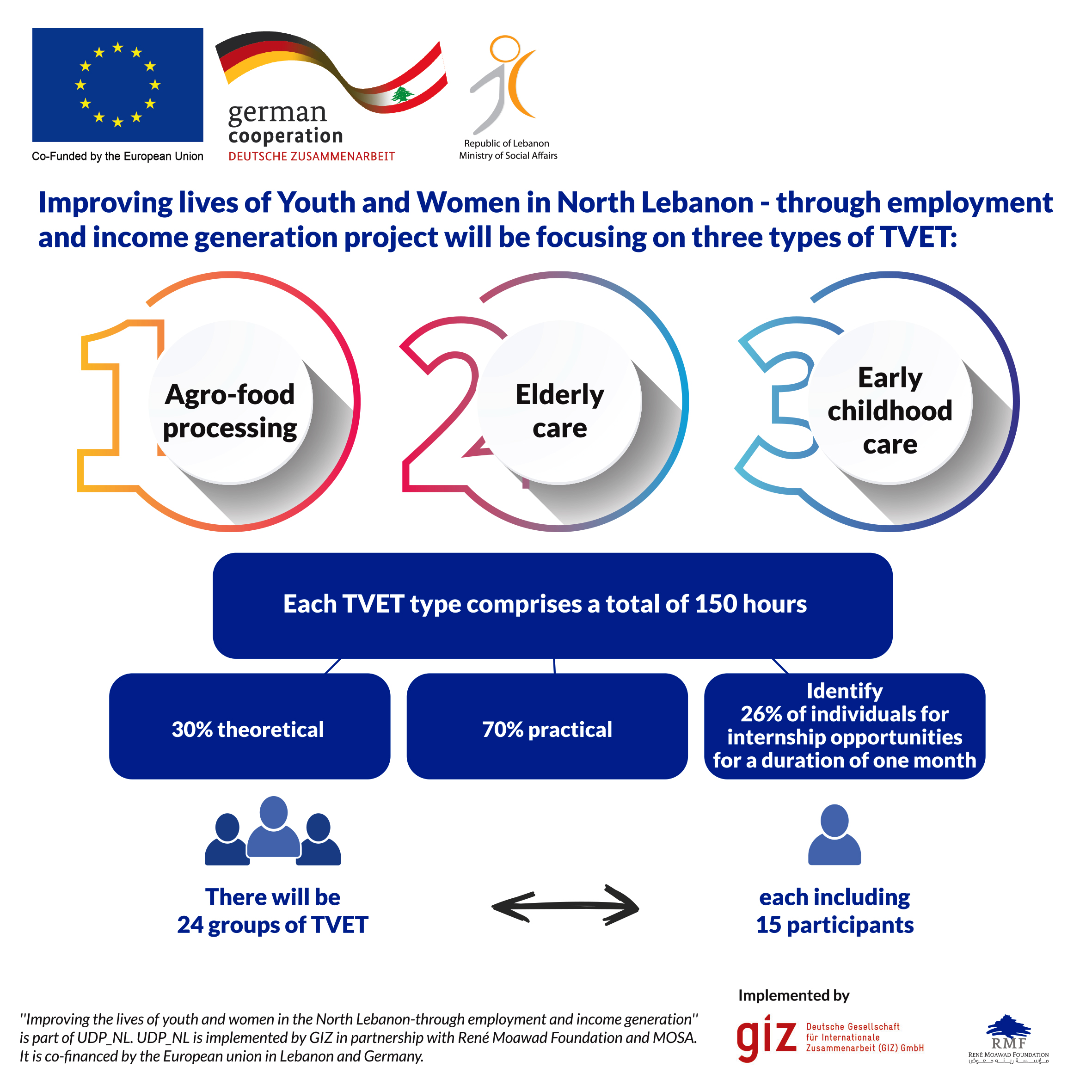 Title              
"Improving the lives of Youth and Women in North Lebanon – through employment and income generation"
Donor
Germany , EU
Location                             
T5
Budget
368,894.22 EUR
Contact person (RMF)                          
Dr. Hasna' Moawad Tanios

70001533

Total duration of the project/action
14 months (1 June 2020 – 31 July 2021)
Number of Employees
5 new employees ( project coordinator, two outreach and field officers, job coach and driver)
Overall objectives           
Enhance youth and women livelihood conditions in T5 through skills building, internship and employment opportunities.
Target Groups (to specify if you have more than 1 target group)

                                      

 Youth aged 16 – 29 and women residing in T5.

Final Beneficiaries              
350 Lebanese youth (50%) aged 16 – 29 and women (50%) residing in T5.
Estimated Results
By the end of 2021, Lebanese youth aged (16-29years) and women residing in North Lebanon increasingly engage in quality in Market Skills Based Training and employment opportunities.
Main Activities
Activity 1.1.1: Recruit project staff

Activity 1.1.2: Conduct inception workshop on GIZ managerial and financial requirements

Activity 1.1.3: Conduct outreach activities for Lebanese youth and women residing in T5.

Activity 1.1.4: Organize orientation sessions for the outreached youth and women

Activity 1.1.5: Conduct psychometric assessment to outreached youth and women for being able to select potential candidates

Activity 1.1.6: Implement Market Skills Based Training courses for 350 youth and women grouped into 24.

Activity 1.1.7: Conduct tailored life skills activities

Activity 1.1.8: Identify 26% of individuals for internship opportunities for a duration of one month.

Activity 1.1.9: Deliver start-up toolkits to 175 TVET participants

Activity 1.1.10: Conduct two coaching visits per participant.